Whether you have a deck, patio, or porch, you can create an outdoor lounge space that's not only cozy and comfortable for you and your family, but for guests, especially during the summer. We've created a guide that will help you create a classic look. Use it, and your backyard space will transform before your eyes.
Create a Classic Outdoor Lounge Space

To create an outdoor lounge space that has a classic look, use the following as a guide. Keep in mind that you can always add additional outdoor furniture, outdoor wall art, and patio decor to the list to give your space a personal touch.
---
Outdoor Furniture
The main component of any outdoor lounge space is outdoor furniture. If you entertain a lot, you'll want to purchase outdoor furniture that is sturdy because it'll last throughout the years. Our Eucalyptus Outdoor Deep Seat Patio Chair (Deep Seat Patio Cushion Set and Comfort Deep Seat Patio Cushion Set sold separately) invites you and your guests to sit back and relax. It offers a larger-than-standard seat and slightly slanted back for ample comfort. Our eucalyptus patio furniture is weather-resistant for lasting beauty, however, the wood is renewable and requires wood cleaner and oil applied seasonally to maintain the finish.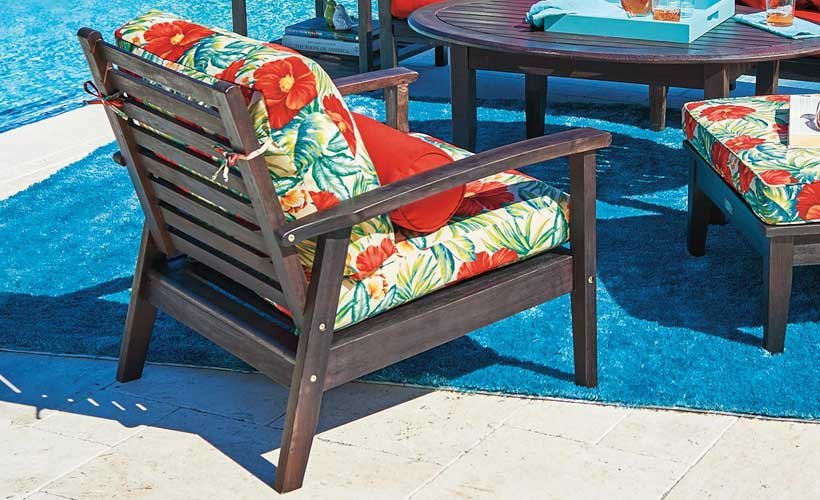 A Eucalyptus Oval Outdoor Coffee Table will add an elegant and handy surface while you relax with family and friends on your patio. Not only can you serve appetizers and drinks in style, but you could relax with your favorite book and beverage in the morning during the week or on the weekend. If the darker color as shown in our infographic doesn't work with your outdoor decor, you may opt for the natural color.
Note: The image below features the Eucalyptus Oval Outdoor Coffee Table in natural.
The Eucalyptus Outdoor Sideboard has an interesting carved detailing on the sides of the open middle shelf. Not only does it have a top table surface and open middle shelf, but it offers inside storage behind two front doors. You can use the patio sideboard as a buffet server for food and drinks or a decorative piece for an outdoor lamp or vase of flowers. The Eucalyptus Outdoor Sideboard will make a great addition to your outdoor lounge space.
Note: The image below features the Eucalyptus Outdoor Sideboard in natural. However, it's also available in espresso and walnut.
---
Outdoor Pillows
Using outdoor pillows to add comfort to your outdoor lounge space is no different than giving your living room the same attention with throw pillows. You can brighten up your backyard space with colorful outdoor pillows. We recommend the Bahama Blue outdoor pillow. The piping adds definition and style and will make your outdoor living area stand out.
When the Green Outdoor Bolster Pillow is used with other outdoor cushions, it can add a level of sophistication. The filling is polyester fiber for ultimate comfort and made of 100% spun polyester that resists mildew, fading, and stains, so it's easy to maintain. If you'd like, you may opt for a striped pattern like the Dockside Stripe to pull the classic look together.
---
Outdoor Rug
Treasures of the deep blue sea decorate the Seawater Outdoor Rug. It's pretty enough for your living room, yet durable for your deck, patio, or porch. Plus, it's water-resistant as well as mold and mildew resistant. The Seawater Outdoor Rug is durable, so it's ideal for your outdoor lounge space.
---
Outdoor Wall Art
With a dimensionally cut design and bronze and reflective copper finish, the Tropical Fish Metal Wall Decor will add some flair to your classic outdoor lounge space. Depending on where you live, you may want to bring them inside when the weather turns a bit inclement.
---
Make Over Your Outdoor Lounge Space before Summer Disappears
Now that you have a guide on how to create an outdoor lounge space, you can create a classic look that you and your family can enjoy during the summer or perhaps throughout the year, depending on where you live. In addition to the outdoor living pieces mentioned within this post, you may consider adding an outdoor privacy screen to separate you from your neighbors. Of course, you can set the mood with outdoor lighting, too.
For even more ideas on how to set up and arrange your outdoor furniture, check out our post How to Create an Outdoor Lounge Space.
---